"Our world is continuously evolving, and so are we. Sustainability is without question one of the most important and pressing challenges for modern society and at INEOS Inovyn we believe we have a vital role to play. The target is clear. The UN has set our generation's greatest challenge, to achieve carbon neutrality by 2050." Geir Tuft, CEO of INEOS Inovyn.
As an industry leader and world-class producer of chlor-alkali and vinyl materials, our products are fundamental to modern society. We embrace the responsibility that accompanies this influential position, and as European market leader, understand our potential to effect positive change throughout our value chains.
INEOS Inovyn's strategy towards sustainability is embedded within our four key pillars and we aim to position ourselves as an innovation pioneer, developing new solutions at every stage of the journey.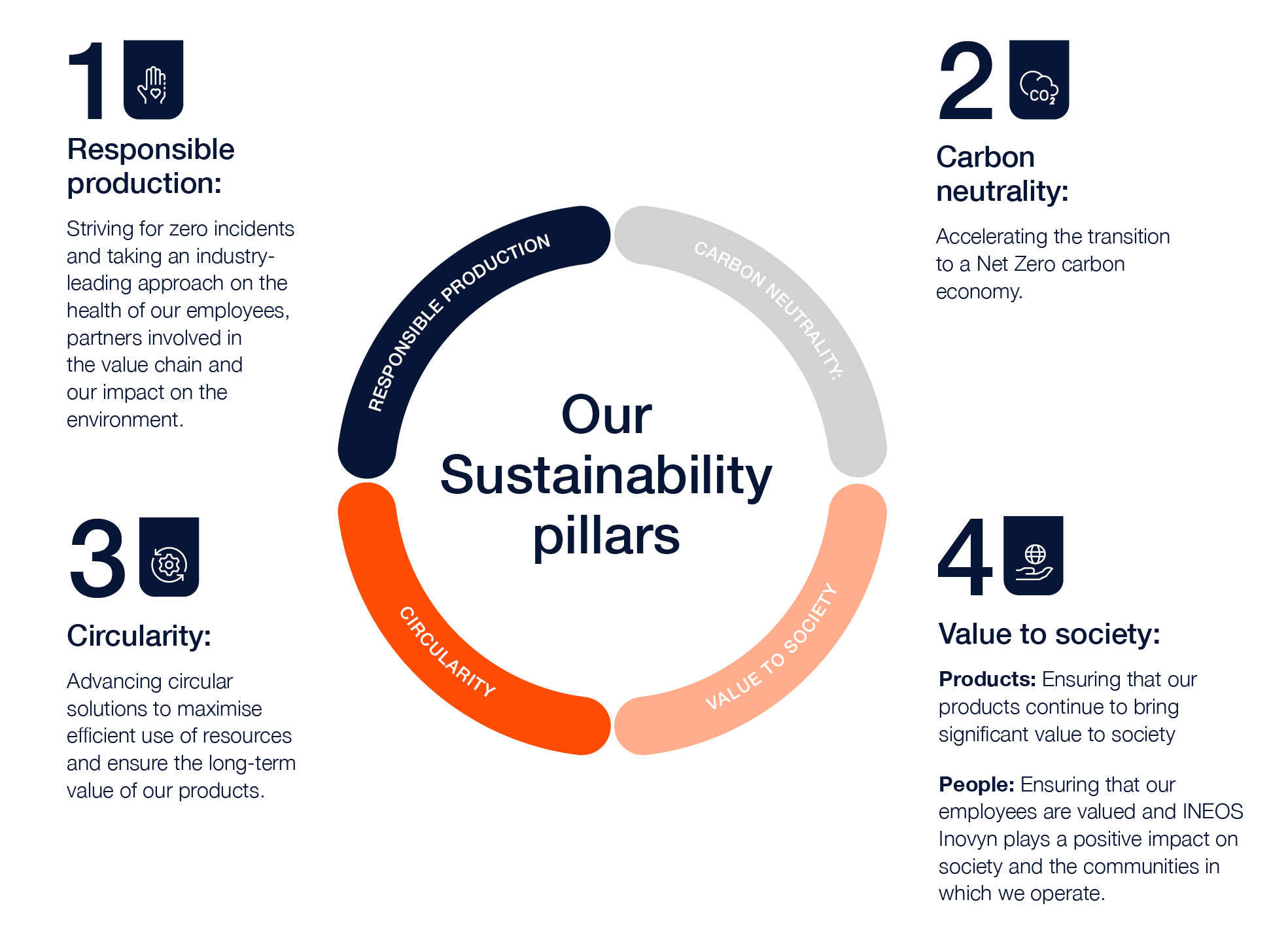 Our Sustainability Reports


Our reports outline the significant progress we have made annually on a wide range of sustainability programmes focused on our four pillars.
With these, we further acknowledge our responsibility as a industry leader when it comes to changing mindsets and challenging existing practices along the whole value chain.
Read our shorter 2022 highlights report here.
The reports use the international framework established by the Global Reporting sustainability reporting.
Our key initiatives


Our ambition is to provide leadership through sustainable innovation.
By harnessing INEOS Inovyn's expertise and technologies, we will meet evolving customer needs and deliver products that are essential to modern life.



Associations


At INEOS Inovyn, we are members of the leading European Industry associations that align with our portfolio and interests, and that share the same drive towards a sustainable future for our industry.
Ecovadis


In November 2023, we were reaccredited Gold Merit status for the fifth consecutive year from EcoVadis. INEOS Inovyn is in the top 2% of all companies assessed within its industry group.